B4Students selects 3 winners of the Business Challenge Competition's second edition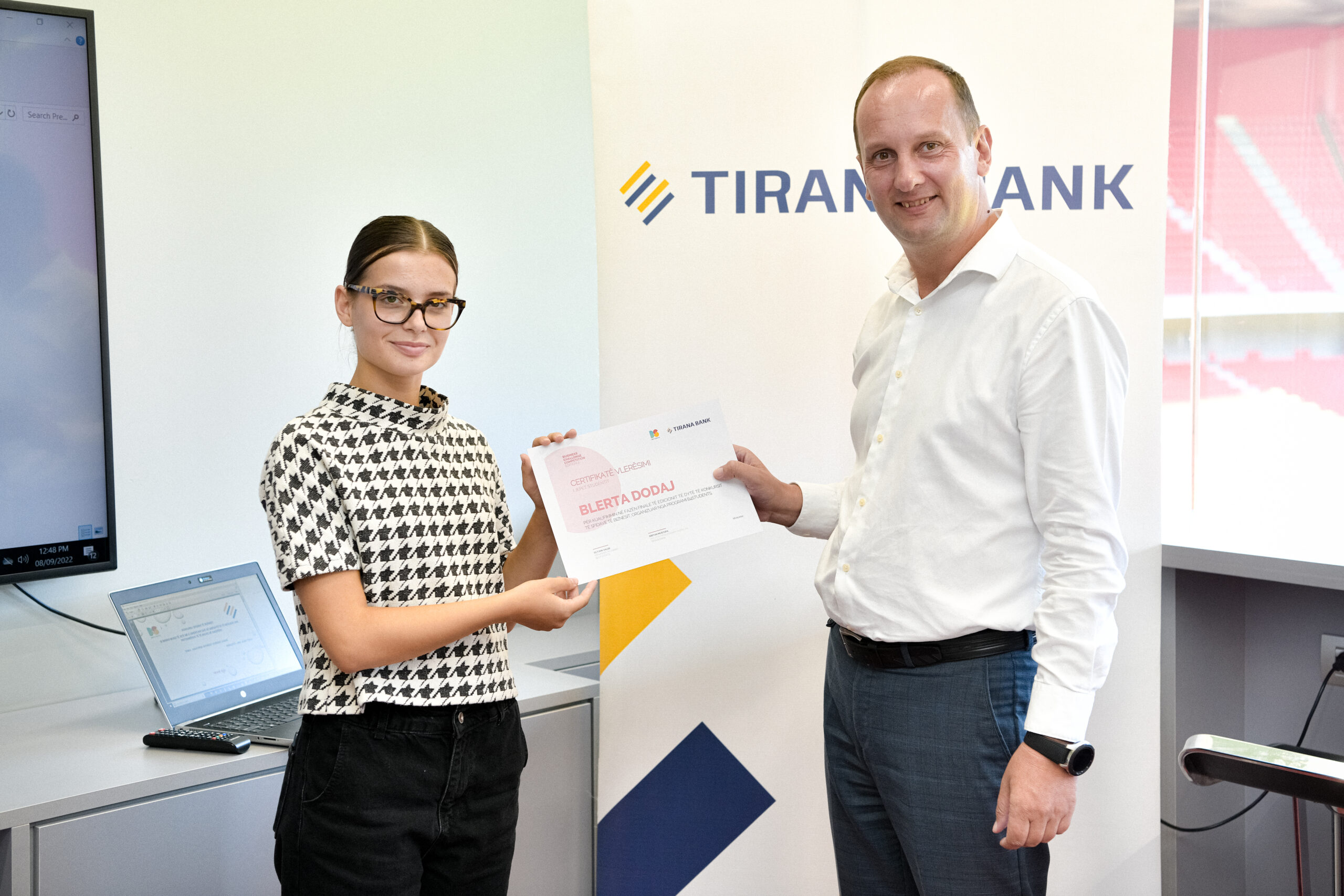 How can Tirana Bank better meet the needs and expectations of young people in Albania with dedicated products, services, and activities, for a friendlier experience? 9 finalist students of the Business Challenge Competition, organized by B4Students, in cooperation with Tirana Bank, responded to this challenge with their solutions.
A jury with representatives of the bank, Elona Gjipali, Head of the Bank Recovery Division, Glenda Kurti, Head of the Corporate Division, and Idlir Mezini, who manages the SME Department, chose the three best ideas, which came from Blerta Dodaj, a student at the University of the People in USA, Klaudia Meha, a student at the Herman Gmeiner school in Tirana, and Alba Tema, a student at the Agricultural University of Tirana.
The three winners were given a monetary reward and professional training on international online platforms on topics chosen by them, as well as participation in the professional practice and employment program in BALFIN Group companies. At the end of the activity, all finalists were provided with a certificate, as an appreciation for their commitment and high quality of their preparation.
This is the second edition of the Business Challenge Competition by B4Students. With this activity, B4Students aims to encourage student's innovation and analytical thinking, through their conception of solutions for real challenges faced by business in Albania.
"The Business Challenges Competition was a special and at the same time beautiful experience for me. I met new friends, presented my work in front of the senior representatives of Tirana Bank, and was awarded the first prize. The B4Students program is a great help to students who have a passion for business and not only that. I look forward to B4Students' next project." said Blerta, first place winner. "An experience that every Gen Z entrepreneur will need to grow as a business leader. Professionalism, motivation, understanding," said Klaudia, winner of the second place. As for Alba, the winner of the third place, "This competition was a moment of reflection to embrace challenges and innovative ideas, one more push to aim high!"
B4Students is part of the social responsibility initiatives in the field of education, created by BALFIN Group, with the special attention of its president, Samir Mane, that focuses on the engagement of young people in entrepreneurship or social contribution, as well as in their professional development.
A few days ago, B4Students launched the third edition of the Business Ideas Competition, for students who want to start a business and need financial support, practical training and mentoring from experts. Those interested can be informed in detail and apply in the link. In the first two editions, B4Students has supported the creation of three businesses by students, Olive Camping, DDA – Diabetic Digital Albanian App, and Compact.